Société Commerciale Cinématographique Tripoli Liban (SCCTL)
« Tripoli est décriée comme ville malsaine; cependant les fièvres ne s'y déclenchent que vers l'automne, et elles sont rarement dangereuses. Les habitants l'appellent leur ville le petit Damas. »[1]

« Notre ville avait ses propres raisons pour se révolter et lancer un ultime défi à l'Etat. Cela ne faisait guère longtemps que les habitants avaient accepté de faire partie d'un Etat envers lequel ils n'avaient éprouvé qu'une hostilité au temps du mandat et qui n'avait cessé de les décevoir depuis l'indépendance. Par certains aspects, la mobilisation pour les idées panarabes n'était que la manifestation d'un très ancien rejet de l'Etat, auquel s'ajoutaient les intérêts propres aux leaders locaux, ceux de la jeunesse et des petits voyous de quartier. »[2]

The tendency to ascribe pejorative attributes to Tripoli is not a recent phenomenon, as the two quotes above accentuate. While the "thawra" (revolution) of October 2019 has done a lot to change the city's image locally and internationally, in the local media or by foreign diplomatic missions it is still often depicted as a dangerous, extremist, no-go area. Although since the 80s, parts of Tripoli, notably Qobbe, Tebbeneh, Jabal Mohsen, and Abou Samra, have become poorer, more conservative, and its cultural life has shrunk, however, for those who care, Tripoli remains a diverse, colorful city with much creative talent and – just like the Rashid Karami International Fairground designed by Oscar Niemeyer – a fair share of unfulfilled potential.

Theaters and Cinemas

By taking theaters and cinemas as a prism through which to look at the city reveals an exploded view. The first theater in the Middle East, for example, Al Ingea, was built during the Ottoman era in 1885 near the Tal clocktower. Among the famous stars it hosted was the great Egyptian diva Oum Khoulthoum. Around the turn of the century, Nassim Khlat was introduced to a cinematograph in London, which he brought back to Lebanon. He would go on to establish the Societé Cinématographique Libanaise (reg. Com. Tripoli No. 58/1955). Georges Nasser (1927-2019), a pioneer of Lebanese cinema, and another significant filmmaker, Randa Chahal (1953-2008), were born and came of age in Tripoli. Among the younger generation of filmmakers are Rania Attieh, the siblings Rania and Raed Rafei, and Yahia Mourad.

From the 1930s on, more cinemas were being built in Tripoli, indeed a "Guide Bleue" travel guide from 1932 mentions two cinemas on Tal Square. By 1955, an updated guide mentions three cinemas and one casino-cabaret (Le Cheval Blanc) by name: Empire, Roxy, and Triomphe. The Cinema Empire, built in 1933 in an art deco style, is the oldest existing cinema to date in Lebanon and had 780 seats. While in need of restoration it is still a splendid building with all its seats and projectors.

In the summer of 2018, UMAM D&R was able to locate 38 cinemas in Tripoli, including three sites where a cinema once stood but had been demolished. Ingea Cinema and Cinema Rivoli, both meant to be preserved, were destroyed in 2011 and 2016 respectively. It was difficult to establish when Cinema Rio may have been destroyed and where entrances and screens were but easy to locate a building in Abou Samra that houses a bank and the unfulfilled intention of a cinema as it is still known as "Bineit Cinema" (cinema building). A look at old postcards reveals that Tripoli and Mina used to be separated by orange and olive groves. Until the tramway and later a tarred road connected the two municipalities, exchanges were limited, which explains the fact that there were seven cinemas in El-Mina. The oldest is Cinema Alam, now a teahouse where old men play cards, and the smallest of all cinemas found in Tripoli is the Hollywood, now a private gym. Quite possibly one of the quaintest, the Cinema Kleopatra, was situated right near the shore before the new Corniche stole land from the sea.

Many cinemas were owned by well-off families and managed for years by the same directors. The bond the directors and their families, as well as the projectionists, had to the cinemas they managed ran deep. Even after cinemas had long ago stopped projecting films, some former employees would still open the doors and sit in the foyer or in front of the cinema. The sons of the owner of the Lido Cinema, for example, have kept their father's cinema and run a DVD business from it.

Up until the 90s, cinemas entertained, educated, and brought cinephiles of all ilk together, filled the city center and nearby areas with activity, and added color and glamor to the cityscapes through posters and large signs, which brightly lit at night. Arab, Indian, American, European, and Chinese films of different genres (Silent, Black and White, Romantic, Dramas, Western, Kung Fu, Erotic, Musicals, Comedies, Nouvelle Vague), shaped opinions, values, fashion, and lifestyles.

Like everywhere else in Lebanon, Tripolitan cinemas had theirs heyday in the 60s and 70s. A changing security situation, the highly oppressive presence of the Syrian army, a demographic shift and also new technologies (VHS and satellite) lead to a decline in the attendance and eventual closure of the cinemas. With the advent of the Islamic Unity Movement known as Al-Tawheed (1982-1991), which peaked between 1983-1985, screening films was effectively prohibited. The films that would continue to be screened were B-grade action movies as well as porn movies that would get cut together with Western movies by amateur editors. Attempts to revive the cinemas, also by means of cine clubs, were successful in drawing audiences back to the cinemas but not financially viable. Some cinemas carried on showing what they had been programming during the war, namely B-grade action and porn movies. By 2000, with the exception of the City Complex in Mina Street and Las Salina, a mall near Enfeh that was built in the 80s, the city's cinemas were no longer operational. Some have been transformed into and are still presently used as gyms or boutiques or serve as storerooms or DVD shops; however, many have been locked for decades. Unlike Beirut, Tripoli still boasts most of its cinemas but like much of its unique architectural heritage, it is under threat.

The SCCTL

In 2018, UMAM D&R managed together with Nathalie Rosa Bucher to salvage the archive of Al-Sharaka Altijariah Al-Cinemayiah (Société Commerciale Cinématographique Tripoli Liban), which contains documents dated mainly from the 1950s and 60s but some going back as far as the 1930s. The SCCTL was registered in 1953 (Reg. Com. 19/1953) and set up by Tripolitan businessmen. It was based in the Palace complex on the Boulevard, which housed three cinemas: The subterranean Odeon had 395 seats, the Palace on the first floor 935 seats, and the Romance, known as a "salle d'art et essais" on top had approximately 350 seats.

Company documents found in the collection illuminate who was on the board of the SCCTL and how its composition changed over time. Listed in 1957 are Gebran Habib, Sami Korkégi, Azmi Rahim, Saïd Zodeh, and Bahige Ramlaoui. The last was also listed as the director of Cinema Opera in 1948, which boasted 995 seats and was Tripoli's largest cinema. The same document lists Gebran Habib, Sami Korkégi, Azmi Rahim, and Said Zodeh in 1962 as the managers of nine cinemas all within walking distance and around Tal: Palace, Odeon, Romance, Dunia, Amir, Roxy, Rivoli, and Rex.

On the five different legal documents dated between 1957 and 1969 that were recovered, the names of Sami Kurkégi and Azmi Rahim are the only ones that remain throughout the years. In 1965, Antoine R. Cabbabeh, director of a bank, joins the board. Not surprisingly, many bank receipts of the Cabbabe Bank were also found in the archive.

The value of the SCCTL collection lies in the volume and diversity of the documents found and their relatively good preservation. There are, for example, screening permits which were issued for every film by the General Security. Based on some of the permits rescued we know that Last Tango in Paris, Taxi Driver, and Undergraduate Girls (La liceale), a 1975 "commedia sexy all'italiana"[3] were given permission to be screened. Furthermore, dozens of hand-written notebooks were kept over the years in which detailed records of film screenings were noted with a fountain pen. Based on these, it becomes possible to establish what films were screened on what days, whether these were first, second, third, or fourth runs, what distribution company provided the film and at what cost, and what profits were made – or losses incurred.

Folders that contained the correspondence with film distributors together with a huge amount of documents found loosely on the floor allowed us to gain insight into the origin of the films projected. Whereas some correspondences were kept with film distributors based in Egypt, the vast majority had offices in Beirut. Every film projected in Tripoli had to be driven north and delivered on time and this of course incurred transport costs. The SCCTL also had connections to Syria as some films were sent on to Homs and Aleppo. It is quite likely that cinemas in Tripoli, and specifically the SCCTL, sent films to other cinemas in Northern Lebanon, notably Zgharta, Ehden, and Bcharre. Only one distributor, a certain Riad Minkara, seems to have operated in Tripoli, but only one single document dated 1954 issued from his office in the Cinema Capitole building was found. Of all the distributors, ten were international (20th Century Fox, Allied Artists, Cairo Film Distribution, Columbia Pictures, Metro Goldwyn Meyer MGM, Paramount, etc.) and 66 Lebanese (Georges Haddad, Henri Schoukair, Fawaz Brothers, Dollar Films, Farid Jabre, Kassar Films, Italia Film, Théodore M. Khayat etc.) or regional (Nader al Atassi's Phoenicia Film, Adnan Deratani, etc.).

Company records such as the exchanges with and invoices from these distributors, bank receipts, and especially the daily earnings from the cinemas run by the SCCTL provide insight into how lucrative cinema was in the 1950s and 1960s. The Seven Year Itch in Cinemascope, featuring Marilyn Monroe and that famous flying skirt scene, screened at Cinema Al-Amir on March 8, 1956. It was obtained from "Fox" at a cost of LL1428.70[4]. A few days later, the Egyptian film Al-Faris Al-Aswad (The Black Knight) starring Kouka, Farid Chawki, and Yehia Chahine, obtained from distributor Nadim Spiridon based on Debbas Square in Beirut for LL380.15, was also screened at al Cinema Al-Amir. Some years later, Dr. Zhivago screened on April 7, 1967 at the Colorado at 3pm and 9pm and the 425 "balcony" and 250 "orchestra" seats sold brought in LL5463.85.

Many of the letterheads of the film distributors have beautiful, elaborate logos. The offices of the addresses, which were usually listed in English and Arabic or French and Arabic, are primarily situated on Bechara Khoury Avenue, some in the "Immeuble (building) Chartouny". Today, this would be in the section between An-Nahar and the Al-Amine Mosque on Martyrs' Square, which was the entertainment hub in those days. Some distributors were based on Nejmeh or Debbas Square, in Monot and Abdel Wahed Inglizi Street, and Italia Film was based in the Wakf Islami Building next to the Beirut Municipality.

In a similar way in which the addresses of the distributors provide insight into Beirut's urban economy and how it has changed and what urban fabric has disappeared, the many invoices of suppliers in Tripoli showcase how there too, the city center was the cultural and economic heart of the city.

The various categories of the documents in the "suppliers" section of the SCCTL prove the significance of this "reel economy," which provided business to many film distributors but also printers, electrical shops, builders, upholsterers, restaurants, and others and of course also generated revenue to municipal and ministerial departments. The categories created for suppliers range from building suppliers (with a total of 99 different suppliers identified, the largest category), to textile shops and tailors, including Merched Arida and the Safadi Bros. Some invoices in this category are clearly for goods (pyjamas) bought for personal use and not related to running one of the cinemas… Furthermore, 59 different electrical suppliers were found in the collection, 13 cinema suppliers (Nader Films, Malikian Frères, Westrex Company Near East, Cinés d'Orient etc.), as well as 33 printers and stationary and newspaper shops, among them the "Librairie Papeterie Select" owned by Albert S. Kairouz, where for years the SCC acquired their monthly copies of "Cinés d'Orient".

Invoices from various grocery stores and patisseries (Epicerie Nouvelle, Pâtisserie Moderne, Pâtisserie Mondiale), sweets makers (Halawiat Rafaat Hallab), restaurants (Al Shatt al Fudi/Silver Shore), and coffee shops (Ban Al Traboulsi) suggest business lunches and catering services hired for openings or special receptions. At times cinemas were rented by political parties or associations for private screenings or events.

Among the utility bills are electricity bills for the Kadisha Electricity Company, gas and water bills, cleaners, and elevator maintenance. Given that all correspondence was done by telephone, telegram, or post, there are many "PTT" (Postes, télégraphes et téléphones) slips for telegrams sent or received and phone bills. Further categories of invoices and documents found cover insurance, legal files and correspondence, business cards, taxes (municipality, amusement, and annual taxes for the ministry of finance), and the National Social Security Fund (NSSF). On the basis of documents such as statements of salaries and wages, it becomes possible to establish the names of employees, their functions, and how much they were remunerated.

While documenting the cinemas in 2018, UMAM D&R found evidence of make-shift editing activity. In the basement of the Odeon there was a homemade editing suite: a metal table onto which a rewinder had been mounted that consisted of bicycle cranks and a bicycle chain. In the drawers of the editing table were razor blades and bits of (porn!) film.

Part of the SCCTL collection are a few gems, such as a small notebook, which lists in neat handwriting and Latin script cinemas of Tripoli and the films that were screened for a period in 1960. Findings like this provide insight into which cinemas existed at what time – and allow the discovery of new names of cinemas, which may have either disappeared or changed over time. Then there is also a small notebook into which someone wrote phrases to use to advertise films according to genre. This is a veritable English and French public relations bible and provides insight into how management captured its audiences. There is also a document from 1955 addressed to Warner Brothers in Cairo, in which the SCCTL complains about the stiff competition it is getting from the Metropole Cinema, who it is fighting in court. The same document reveals that the gentlemen behind the SCCTL have been in the cinema business for well over 15 years. And then there is a small envelope bearing a stamp of the Cinema Opera issued by the Ministry of Hygiene in 1947, granting it to operate.

The value of the SCCTL collection, be it documents or objects, is surpassed by the ultimate value it holds: that of a collective memory that bears witness to a time when one's status and place in society was derived from one's neighbourhood, the school one attended, and political allegiances rather than religious (sectarian) affiliation. It is still alive in the minds of many Tripolitans. Hence, UMAM D&R's work has been focusing on the cleaning and sorting out of the documents and objects in the collection but also in gathering testimonies that bring the collection alive.

[1] Karl Baedeker, Palestine et Syrie manuel du voyageur, quatrième édition, 1912, p. 331
[2] Khaled Ziadeh, Vendredi, dimanche, Actes Sud, 1996: pp.65 & 66
[3] https://en.wikipedia.org/wiki/La_liceale
[4] The cost of Lebanese bread in 1956 was 35 piastres.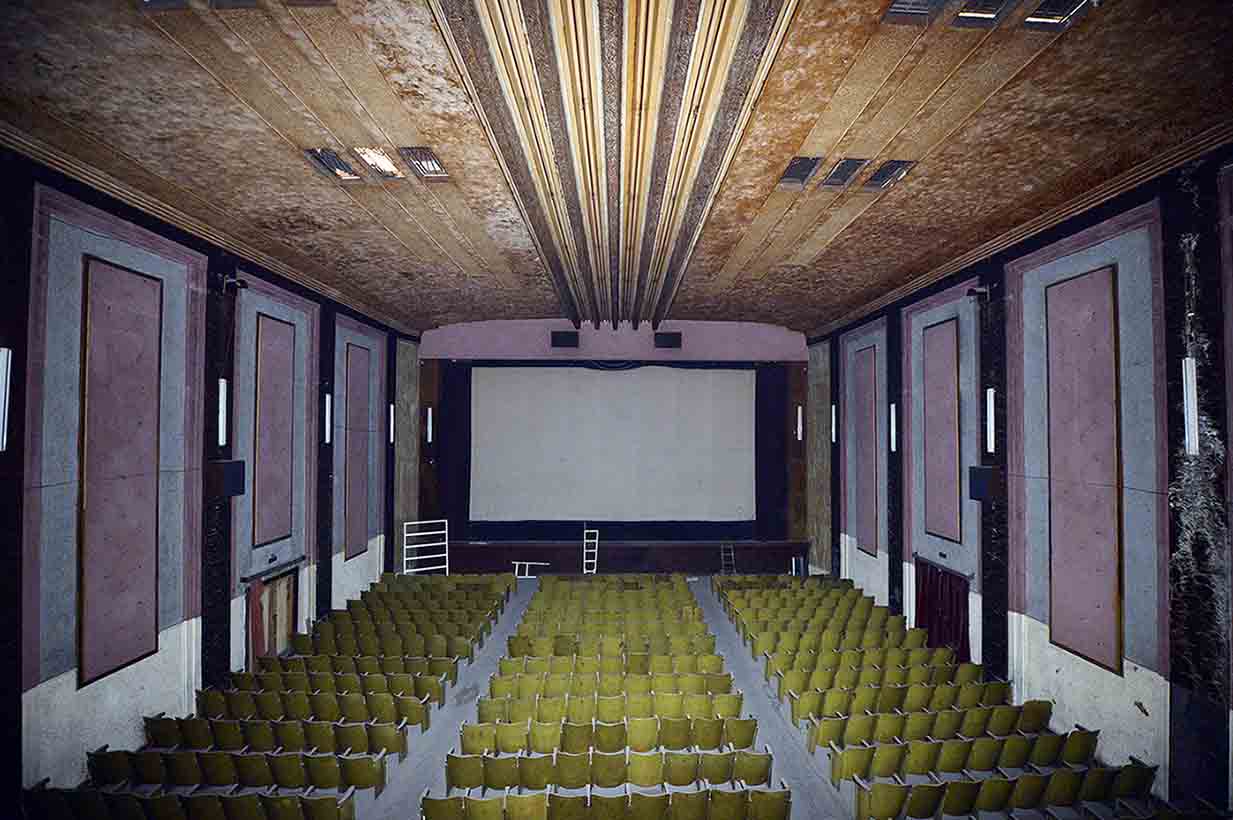 Inside the Cinema Empire at Tal Square, the oldest remaining cinema in Lebanon.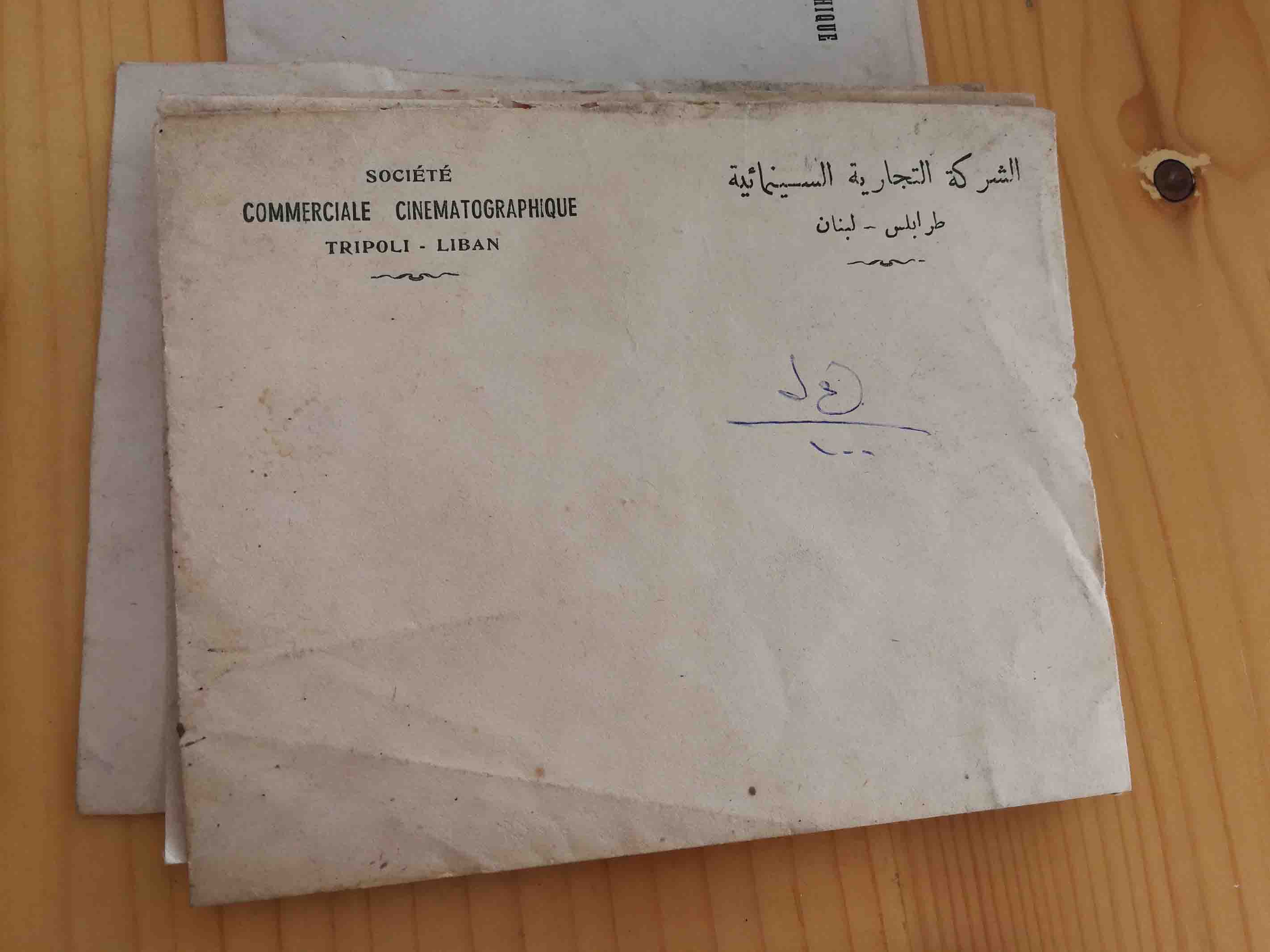 The SCCTL was registered in 1953 by five Tripolitan businessmen.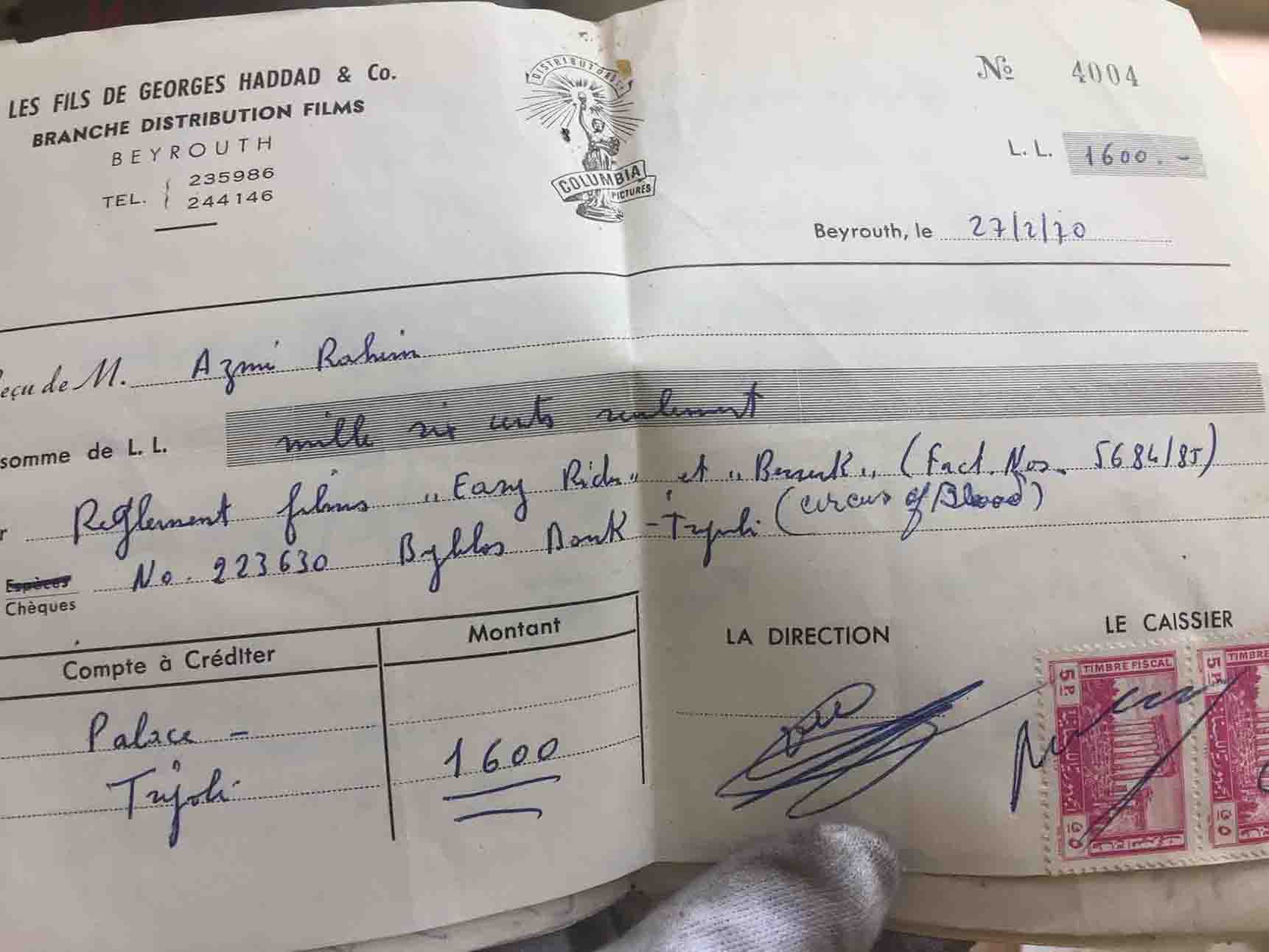 A receipt issued to Azmi Rahim of the SCCTL from Beiruti distributor Haddad for Easy Rider (1970).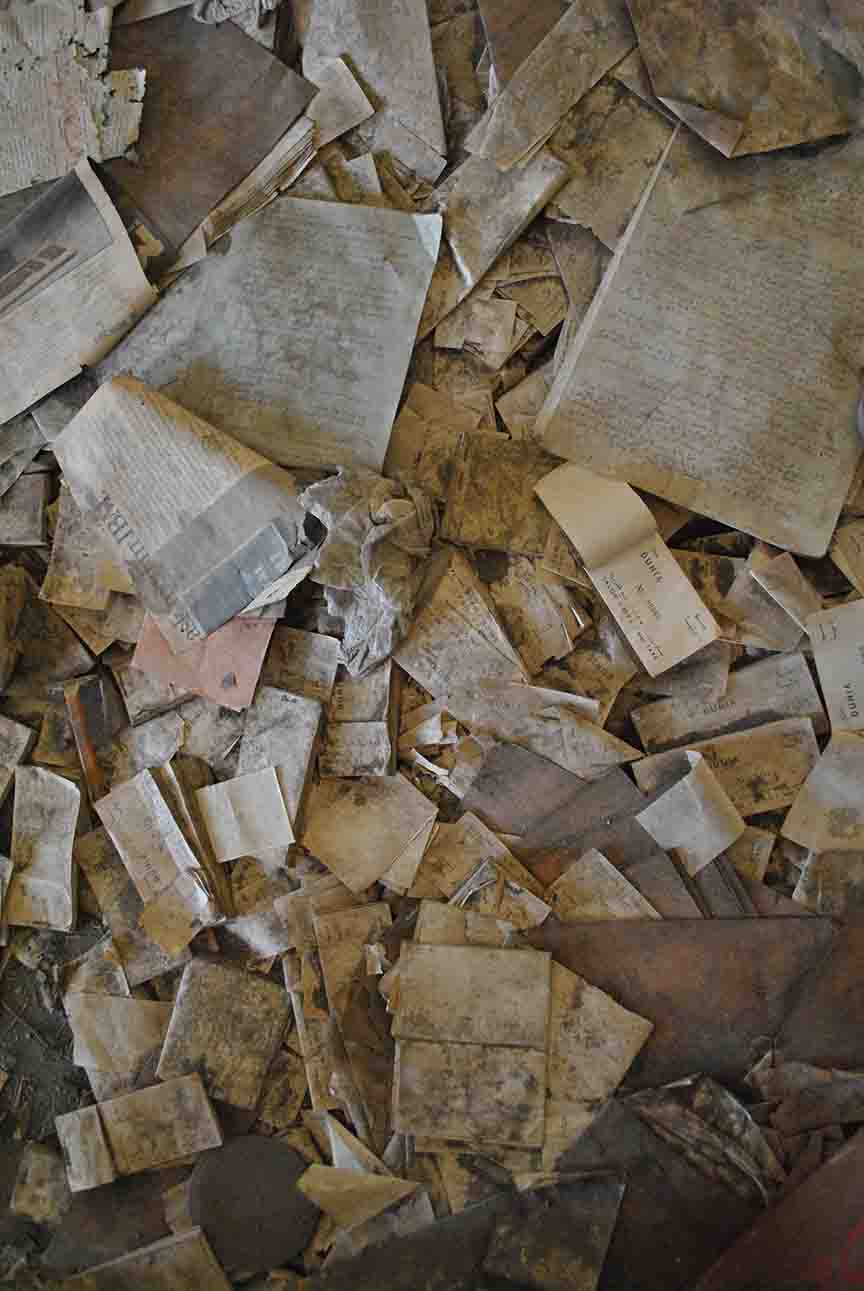 How we found the SCCTL archive…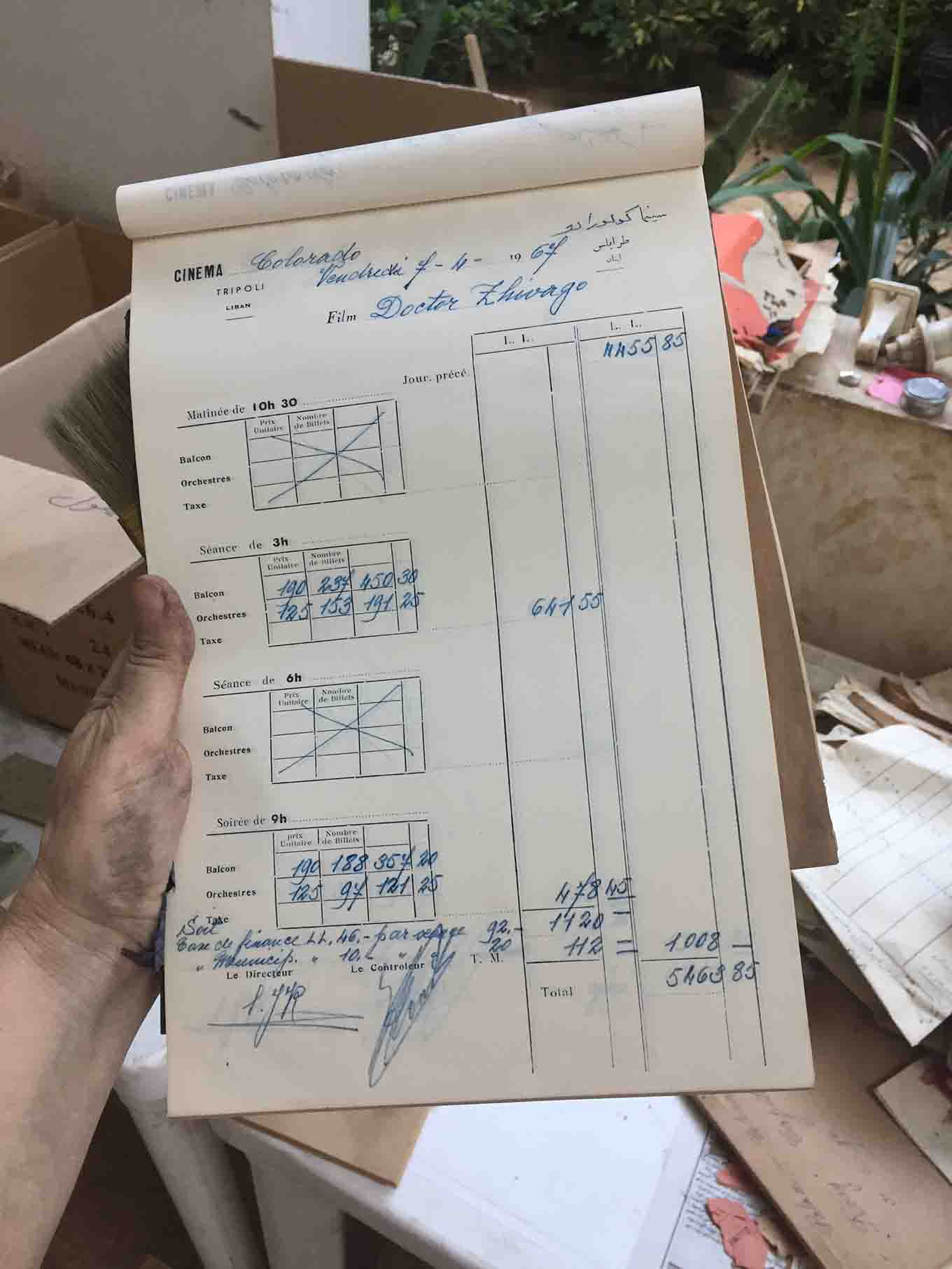 "Doctor Zhivago" was screened at the Colorado on 7 April 1967.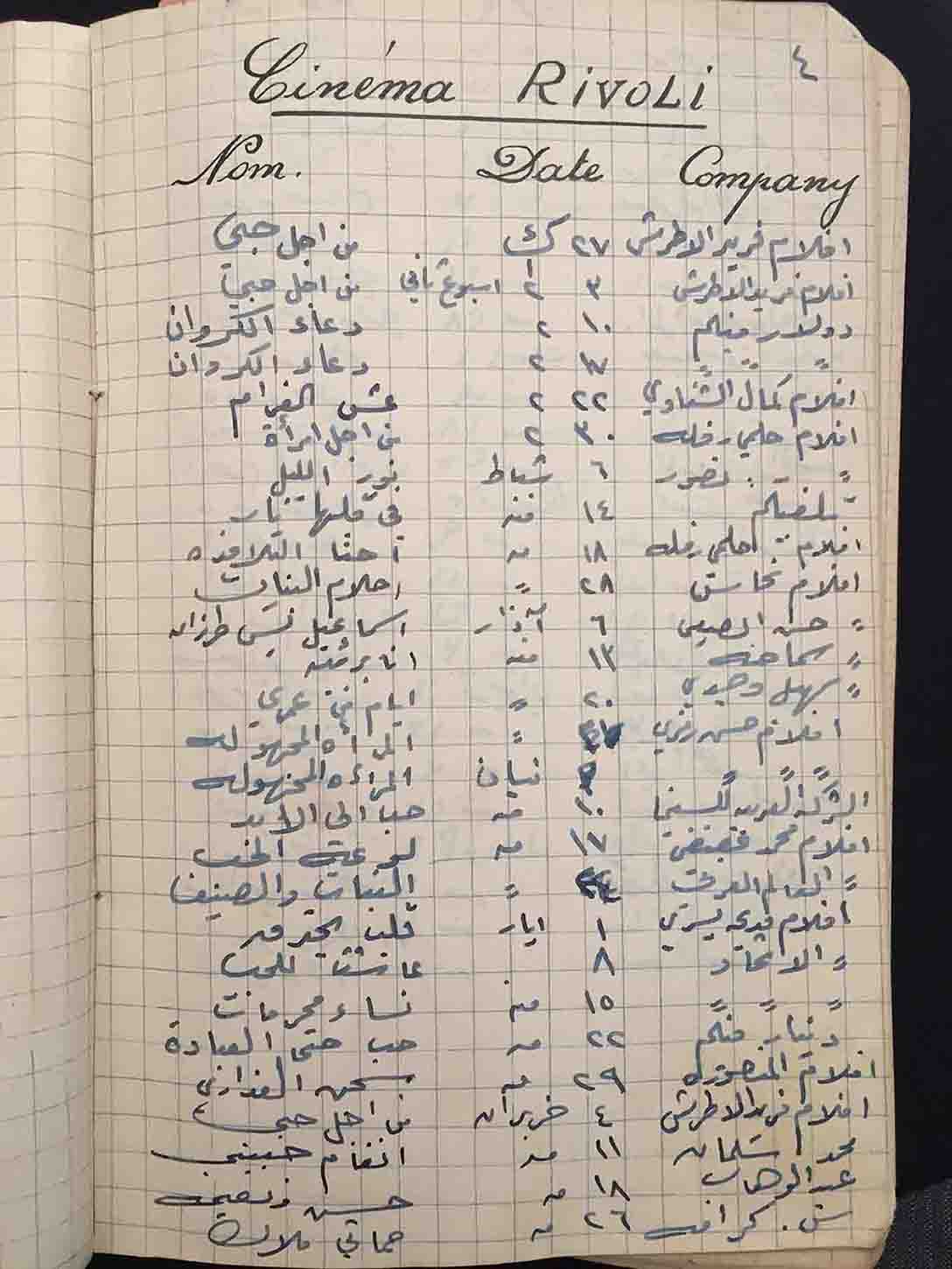 Hand-written record of cinema screenings – here at the Rivoli – in 1960.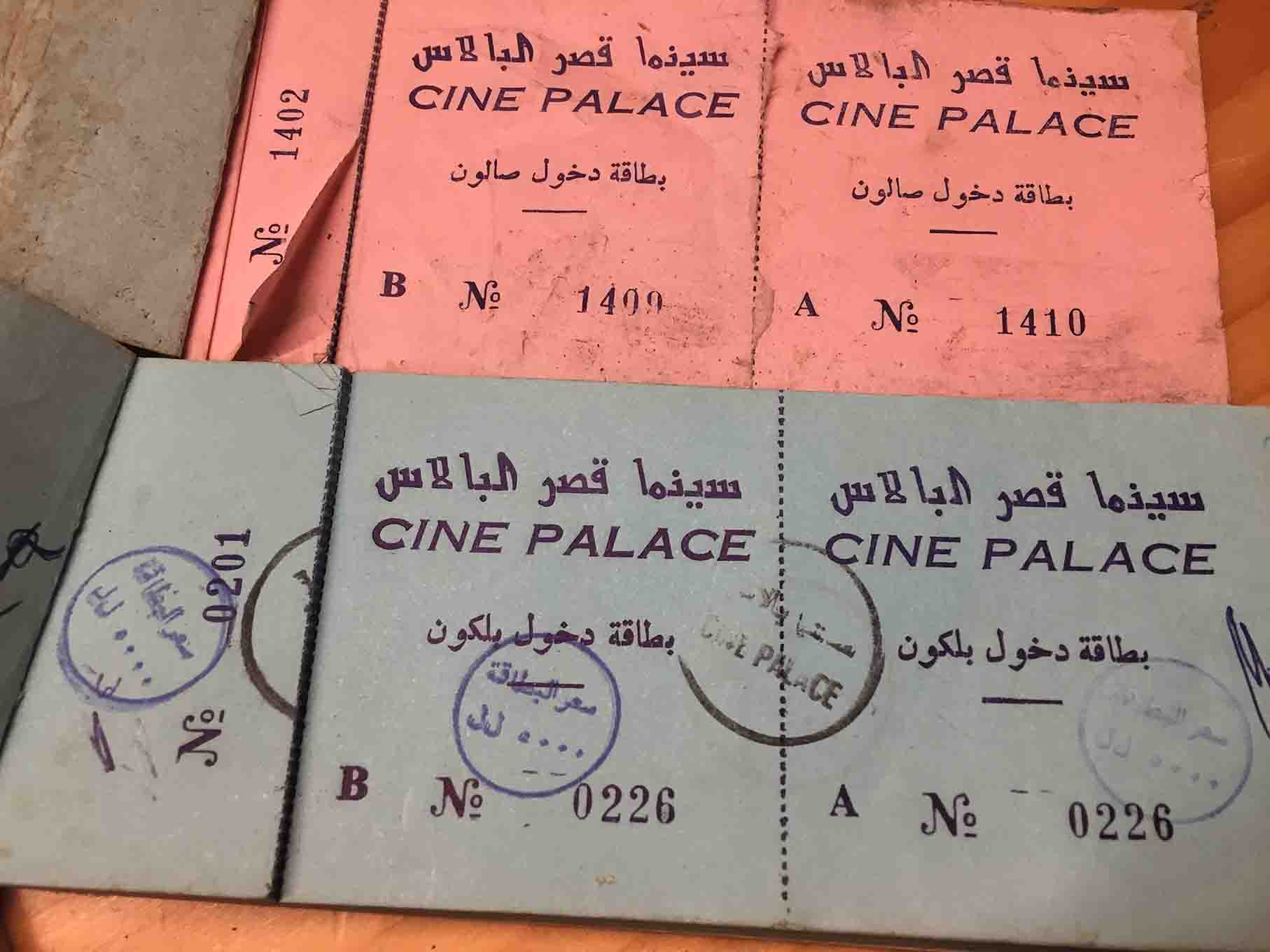 Entrance tickets for the Palace that screened American, European and also Arab films.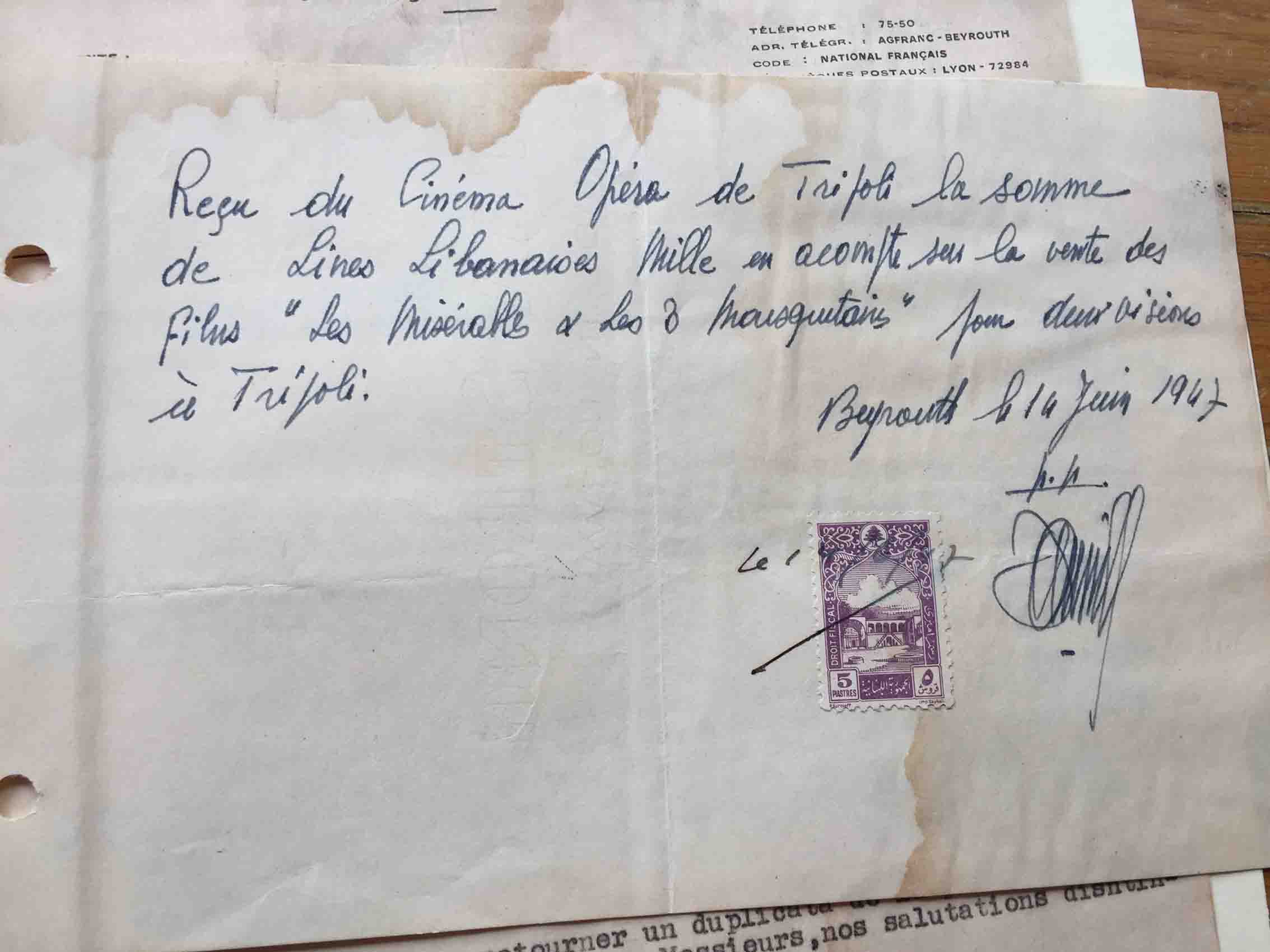 A receipt for the films "Les Misérables" and "Les 3 Mousquetaires" that screened at Cinema Opera.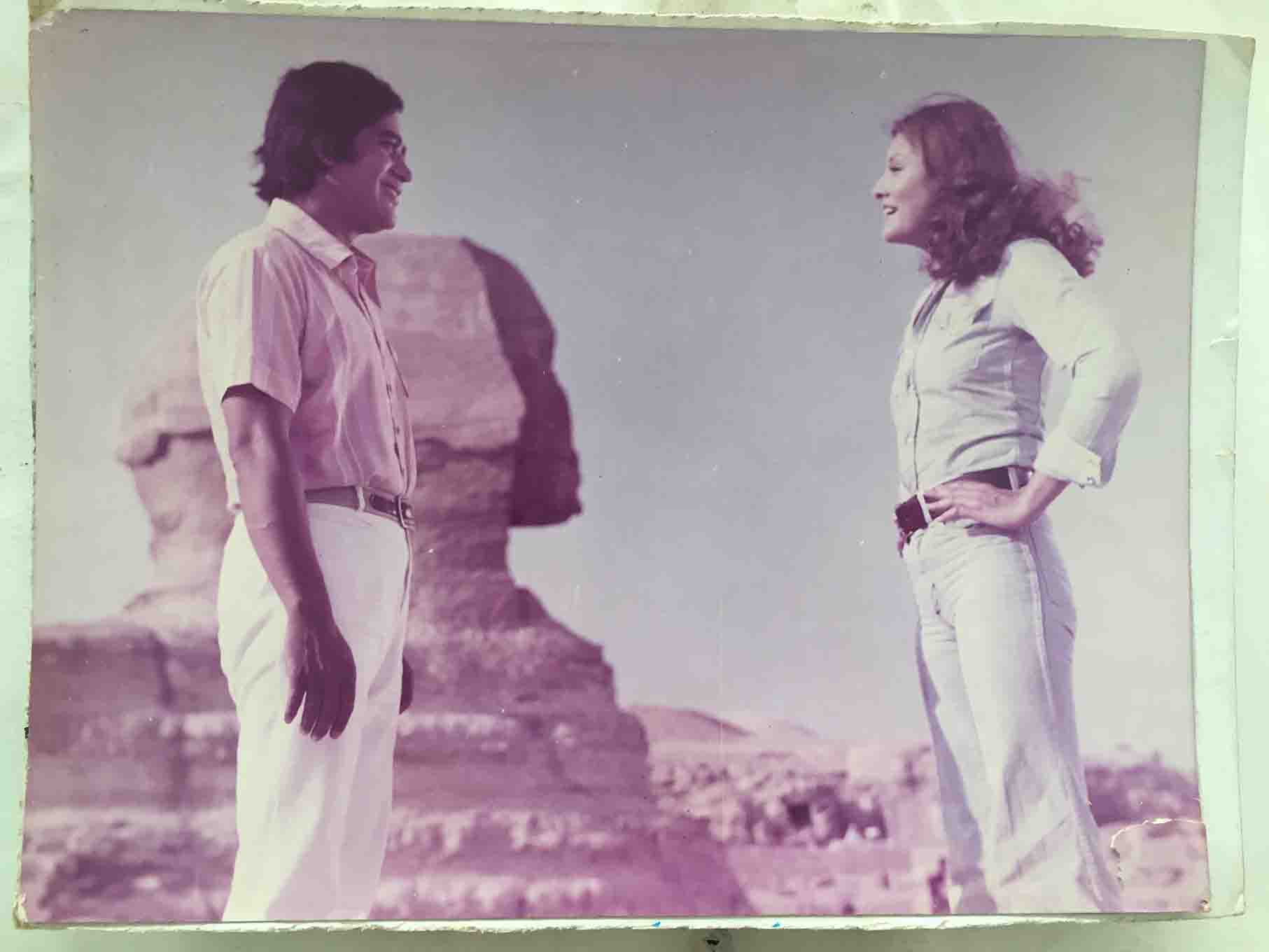 "The Queen and I" (Al-Malaka w Ana) starring Georgina Rizk and Moharam Fouad.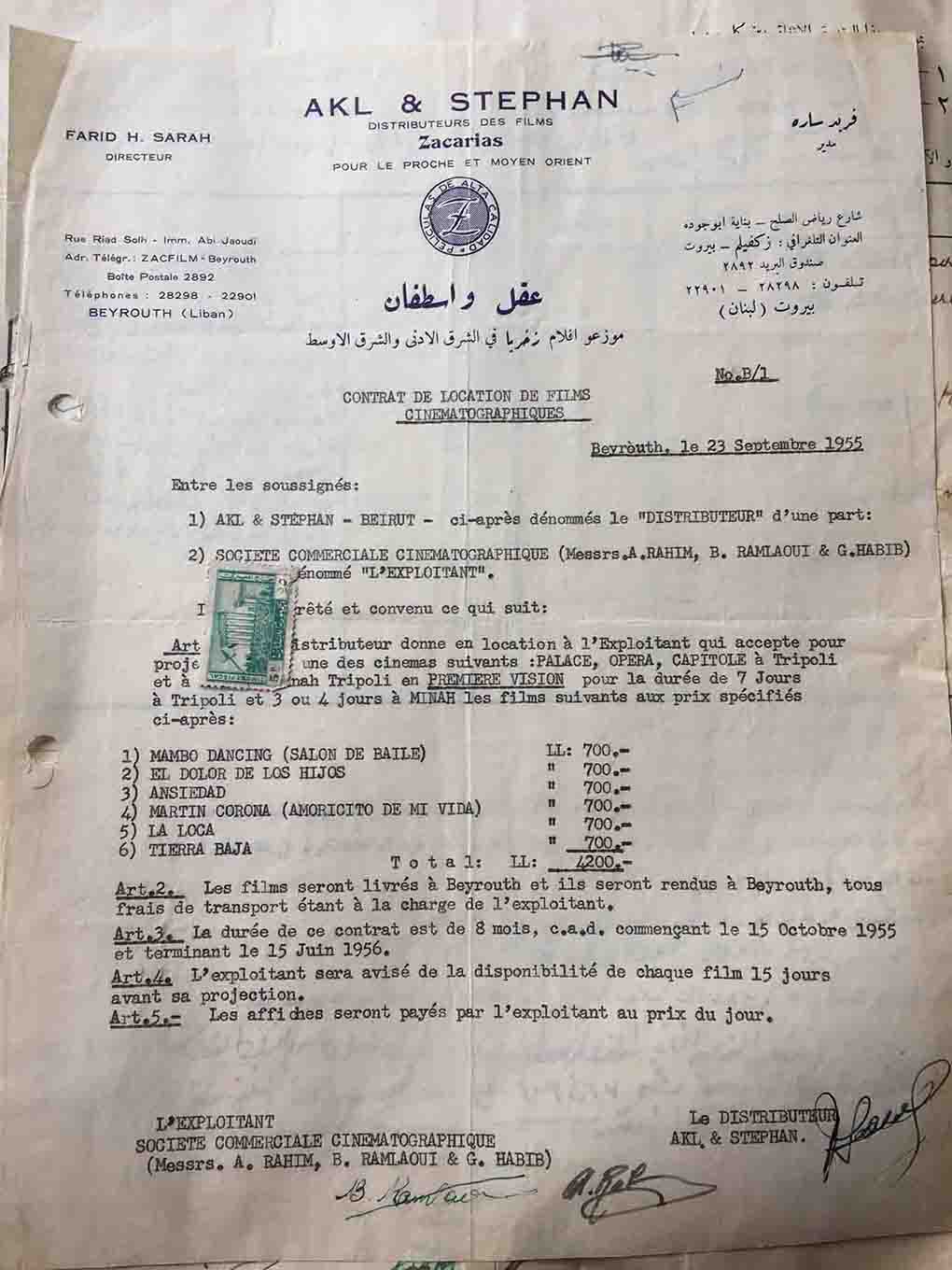 Akl & Stephan, one of the distributors that provided the SCCTL with films.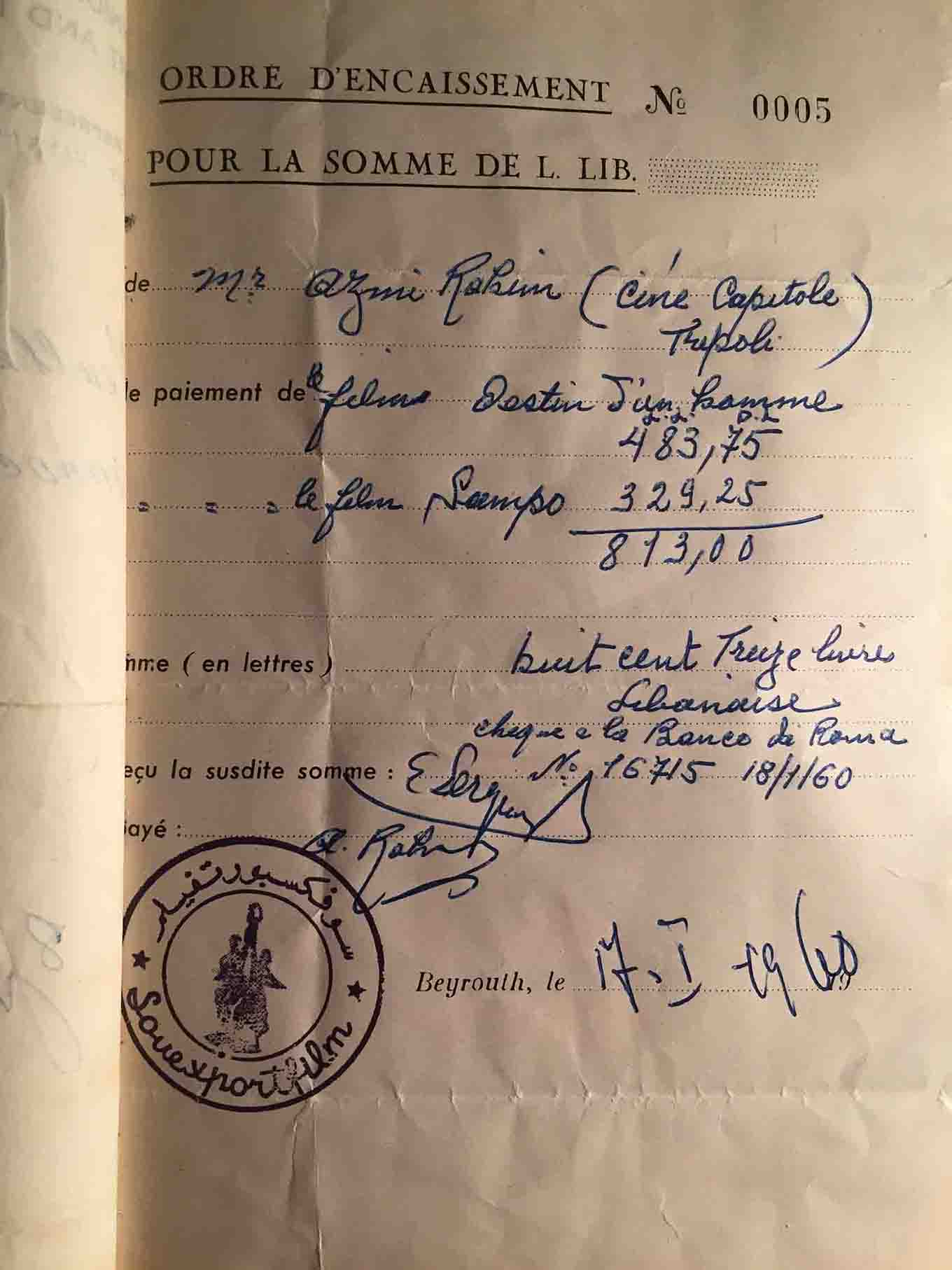 Through Soviexportfilm, the SCCTL obtained films from the Soviet Union.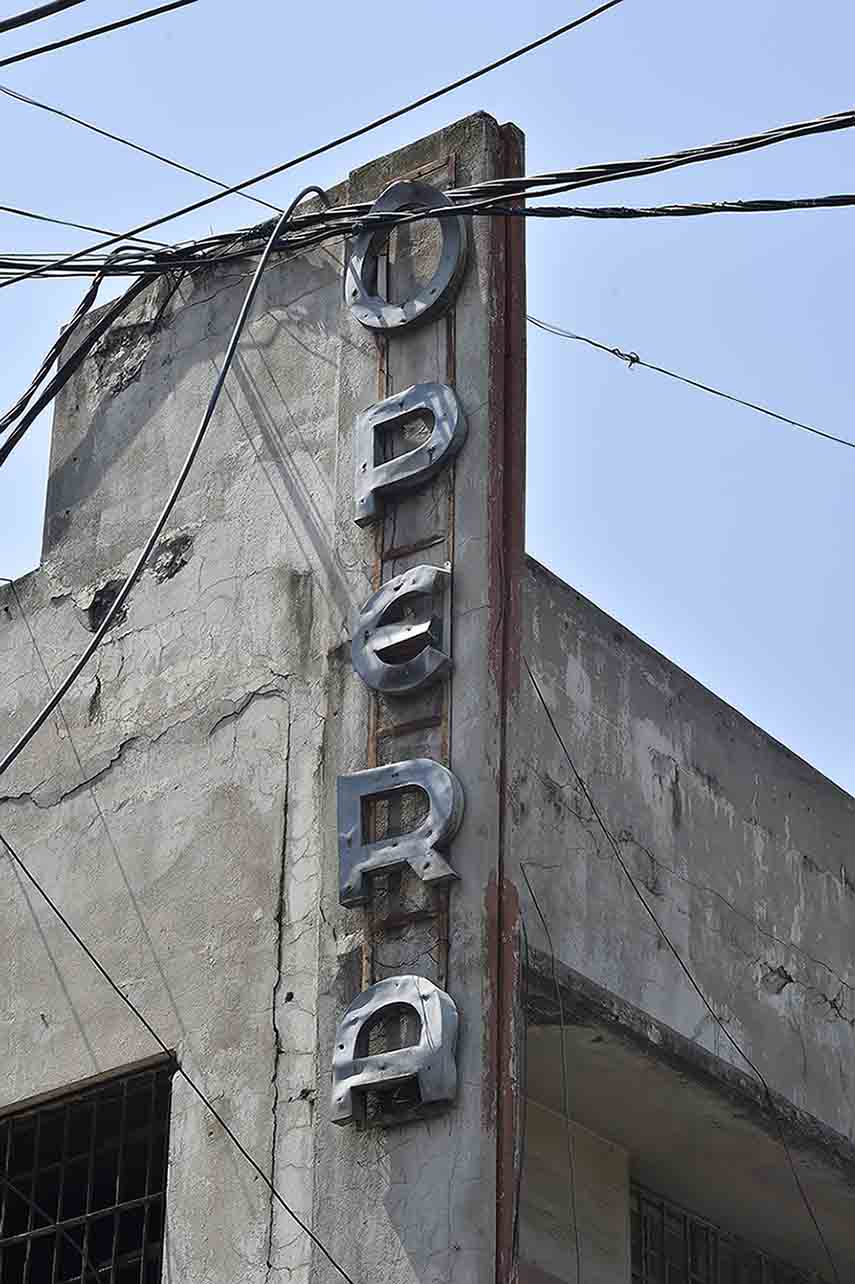 A Bauhaus inspired sign on the side and Arabic font above the entrance of the Opera.